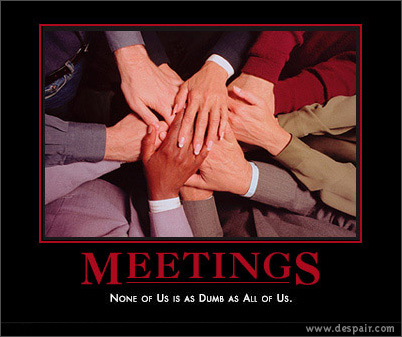 I can't believe this. I was in 7 1/2 hours of meetings yesterday. This is on top of having to do actual work. And, I just now got out of a 4 1/2 hour meeting. I have another 1/2 hour meeting coming up, but the rest of my day is "free." GAH!! Does anyone feel like there are just too many darned meetings in the world?

Anyhow, let's have a TWoNN townhall meeting (now, appropriately dubbed "TWoNN Hall Meeting"), shall we?

Ahem.

I hope every likes the marquee along the top of the blog. I had known about it for some time and had even experimented with it on off hours (hours during which I didn't think blog members would be watching, like 3:45am, which is between meetings for me sometimes). I launched it when MonkeyPig was visiting us as sort of a welcoming gesture for her. I used green at the time because that matched with the whole decor of the blog. But, now, I'm going to use the colors to represent the crisis level in my head. To start off, Nonny Nu Crisis Level was at its lowest (green) when MonkeyPig was in town. At that time, I was on vacation and was having fun getting burned by the San Francisco sun. Then, as some of you may have noticed, on Monday this week, when there was only one serving of Magic Kitchen panna cotta left, Nonny Nu Crisis Level was at its highest (red). Today, NNCL is only elevated (orange), what with looming deadlines and yet more meetings. So, I think this may be a good method to convey my innermost feelings and anxieties to the world that is outside of TWoNN.

Okay, meeting adjourned.