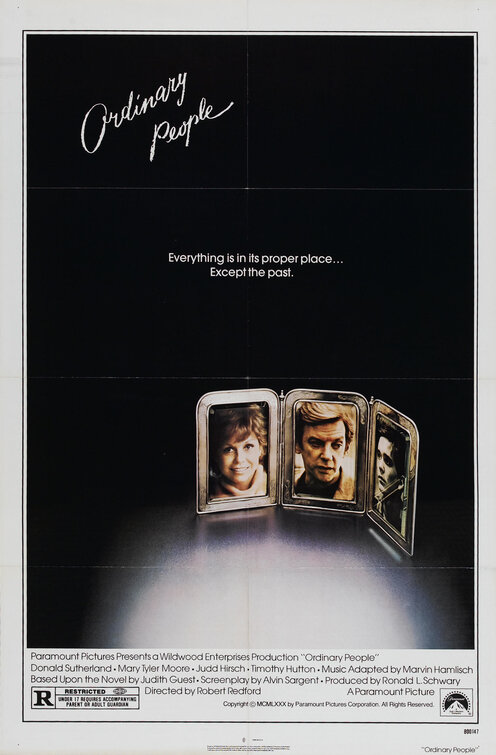 I recently rented Love Story and Ordinary People because they seemed to be such legends in film goers' minds. But, when I watched them, I couldn't figure out what was the big deal about these two movies. I was not moved by either one. The chick in Love Story didn't make me feel sorry for her when she died, and I didn't feel sorry for the dude, either. I just didn't get my heart wrenched out by watching this movie. Same with Ordinary People. This one was better than Love Story because the characters were at least not annoying. But, again, I didn't really feel anything much for them.

Now, when I go to IMDb, Love Story got 6.5 (which is expected), but Ordinary People got 7.8. Really? 7.8? You know what else got 7.8? Stuff like Close Encounters of the Third Kind, Mash, Adaptation, The Machinist, The Magnificent Seven, Glengarry Glen Ross, The Longest Day, and Fanfreakingtasia.

But, no, apparently, Ordinary People is better than:
Out of Africa (6.9<--HAHAHAHHAHHHAHAAA!!! Riiiiiight. *roll eyes*) Gosford Park (7.2)
Friday Night Lights (7.2)
Gangs of New York (7.3)
Coalminer's Daughter (7.3)
Terms of Endearment (7.3--HA!!)
Best in Show (7.4)
Kramer v. Kramer (7.6--now, this was a heartwrenching movie; I really recommend this one)
Midnight Express (7.5)
Open Range (7.5)
Shine (7.5)
Marathon Man (7.6)
Empire of the Sun (7.6)
American Grafitti (7.6)
Babette's Feast (7.7)
The Last of the Mohicans (7.7)
My Left Foot (7.7--HAHAHHAHAHAA!!!)
The Verdict (7.7)
The Outlaw Josey Wales (7.7)
Giant (7.7)
The Sound of Music (7.7--OMG, KILL ME NOW, I BEG YOU.)

Of course, if you want something just a bit better than Ordinary People, try these:
In the Name of the Father (7.9)
The Remains of the Day (7.9--this one made Mr. Nonny Nu want to kill himself more than usual)
Captains Courageous (7.9--cripes...)
Young Frankenstein (7.9)
The Searchers (7.9)
Roman Holiday (7.9)
This is Spinal Tap (11--Just kidding, this got a 7.9)
Rope (7.9)
Harold and Maude (7.9)
Rocky (7.9)
Whatever Happened to Baby Jane? (7.9)
Hud (7.9)
Dances with Wolves (7.9)
Papillon (7.9)
United 93 (7.9--yeah, this one is only a tad more interesting than Ordinary People)
Almost Famous (7.9)
The Exorcist (8.0)
Spartacus (8.0--Don't listen to him; I am Spartacus.)
The Killing Fields (8.0)
All the President's Men (8.0)
Sling Blade (8.0)
Planet of the Apes (8.0)

What is this world coming to? I really don't get what is the big deal about Ordinary People, and why it's so "moving." What am I missing here?